A Celebration of Monsters, Superheroes, and Villains
in touring museum exhibitions, books, special events, and more!
---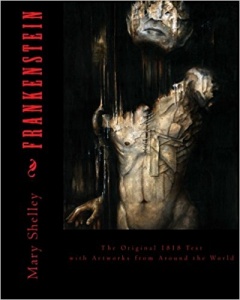 SuperMonster市City! is thrilled to announce the release of their new publication of Mary Shelley's Frankenstein.
This unique publication includes the original 1818 text and includes 17 new artworks created by artists from around the World!
All the artists will receive a prorated portion of the proceeds from the sale of this book. Click HERE to buy your copy now on Amazon.com!
The artworks are by artists from Denmark, Australia United Kingdom, Sweden, and all across the US. This edition also includes a foreward written by SMC co-founder Stephen Yogi Rueff and includes details about Mary Shelley's parents, her early life, her artistic peers, the creative origins of her novel, and how death haunted her throughout her life.
We hope you will buy a copy and revisit this inspirational novel that was written by a teenager and continues to be relevant 200 years after its original publication. The cover art seen here is by UK artist Marc Potts.
---
Goldstein Museum of Design Director Lin Nelson-Mayson talks about SuperMonsterCity! on Vimeo
Historic Duluth Depot Program Director Briana Johnson talks about SuperMonsterCity! on Vimeo
SuperMonster市City! was co-founded by master collector David Barnhill and derived from his collection of 200,00 toys, posters, games, and films. Co-founder Stephen Yogi Rueff is Managing Director and Curator, placing the objects in social and political contexts through reflective and informative texts, artist profiles and commentary. Barnhill and Rueff enjoy sharing America's iconic mythological figures from America's Golden age of toys. 
Exciting UpUpcoming Events!
October – December 2019: 
SuperMonster市City! presents an exhibition of monsters, superheroes, and villains at the Hjemkmost Center in Moorhead, MN. 
Stay tuned, that's it for now!
After seeing our cool merch, reading our origin stories, and checking out our 'book an exhibit' page, add your comments and then surf over to the SuperMonster市City! Facebook page for mayhem updates. You can email comments and questions to Stephen@SuperMonsterCity.com
Be sure to follow us on Instagram & Twitter, too!
Toy Photos by Steven Zerby