A Celebration of Monsters, Superheroes, and Villains
in touring museum exhibitions, books, special events, and more!
---
Special Event: Join SuperMonster市City! at the Science Museum of Minnesota on Thursday, February 22 form 6-10 p.m. and Party Like It's 1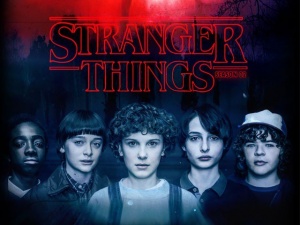 984!
This event is inspired by the hit Netflix showStranger Things takes attendees ages 21+ back to simpler times when all you had was your walkie-talkie, your dirt bike, and a Demo-dog clawing a hole in your Jansport backpack! A case ofSuperMonster市City! toys from the 1980s will be on display. TICKETS 
---
On Tour: The University of Bridgeport's Schelfhaudt Gallery welcomes America's Monsters, Superheroes and Villains, a truly monstrous exhibition of vintage toys, models, posters, and more, curated by SuperMonster市City! Opening February 9 and running through March 18, 2018. If you're out East, c'mon down and get your geek on!
---
Goldstein Museum of Design Director Lin Nelson-Mayson talks about SuperMonsterCity! on Vimeo
Historic Duluth Depot Program Director Briana Johnson talks about SuperMonsterCity! on Vimeo
SuperMonster市City! was co-founded by master collector David Barnhill and derived from his collection of 200,00 toys, posters, games, and films. Co-founder Stephen Yogi Rueff is Managing Director and Curator, placing the objects in social and political contexts through reflective and informative texts, artist profiles and commentary. Barnhill and Rueff enjoy sharing America's iconic mythological figures from America's Golden age of toys. 
Exciting UpUpcoming Events!
October – December 2019: 
SuperMonster市City! presents an exhibition of monsters, superheroes, and villains at the Hjemkmost Center in Moorhead, MN. 
Stay tuned, that's it for now!
After seeing our cool merch, reading our origin stories, and checking out our 'book an exhibit' page, add your comments and then surf over to the SuperMonster市City! Facebook page for mayhem updates. You can email comments and questions to Stephen@SuperMonsterCity.com
Be sure to follow us on Instagram & Twitter, too!
Toy Photos by Steven Zerby