In 2014 SuperMonster市 City! was asked to contribute in the development of a touring exhibition Toys of the 50s, 60s, and 70s produced by the Minnesota History Center.
This exhibit opened in Minnesota in 2014 and ran for 6 months, drawing the highest attendance in museum history.
SuperMonster市 City! contributed to the exhibition as subject matter experts, and by loaning over 100 items to the show including vintage Aurora models, Mego, Palmer and Marx heroes and villain figures,  Star Wars figures, Creepy Crawlers, Planet of the Apes items, vintage books, trading cards, television commercials, and more!
Most
of the 
SuperMonster市 City!
 toys are featured in two stand alone cases with didactics written by SMC's David Barnhill. Other contributions are sprinkled throughout the exhibit, with SMC's Stephen Rueff's commentary featured on panels relating to Rat Fink and Problem Toys. Barnhill and Rueff are also contributors of items and commentary in the
exhibit's companion
book TOYS of the 50s, 60s, 70s ,
which we highly recommend!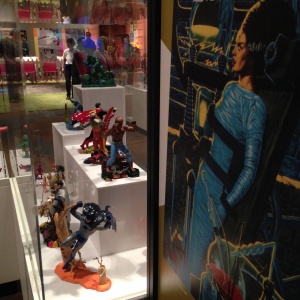 NOW TOURING AMERICA!  
SuperMonster市 City! is thrilled to be included in this amazing exhibit and encourage you to attend as it tours! 
The exhibition will land in Pittsburg at the Heinz History Center in March of 2016 and will continue to travel nationally thereafter. Click below to Share with your far-flung friends!
TOYS of the 50s, 60s and 70s was at the History Colorado Center in Denver, June 2015 – Jan. 2016 
Remember: After seeing the show post a Selfie with your favorite toy on our Facebook page and let us know what you think!  
And most of all, have fun!!!!