"Dragon" Set of 7 postcards
$5.00
Postcards: 3" x 5" are sold in sets of 7 different images of vintage monster themed toys!
Photos by Sandhill Photography (Margie and Pat O'Loughlin). Postcard design and layout by Liz Pangerl of Casa Valencia.
All this for $5.00 + $2.75 shipping and handling
Description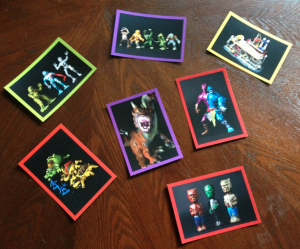 Images include: Dungeons and Dragons, Hamilton's Invaders, Soakies, Aurora Monster model Universal Monster's The Bride of Frankenstein and more!