"Krusher" Set of 7 Postcards
$5.00
Postcards: 3" x 5" are sold in sets of 7 different images of vintage monster themed toys!
Photos by Sandhill Photography (Margie and Pat O'Loughlin) and postcard design and layout by Liz Pangerl of Casa Valencia.
Description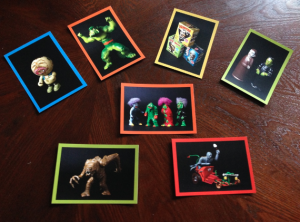 Images include: Star Wars Rancor Beast, Frankenstein's Fliver, Glo Heads, Mattel's Krusher and more!