Follow the links below to learn more about recent SuperMonster市City! hauntings!
June- December 2017: The Virginia Historical Society in Richmond Virginia hosted the exhibition Toys of the 50s, 60s, and 70s. With over 100SuperMonster市City! pieces on display throughout the exhibition and in free standing cases dedicated to our collection. Pick up the Companion Book including pictures and text by SMC founders David and Stephen.
November 3,4, 5, 2017: Crypticon Minneapolis invited SuperMonster市City! to unearth the most diabolical, sinister, and gruesome toys, models, figures and global artifacts in a mini-exhibition (not responsible for future therapy). Times and admission prices vary. For more information go to Crypticon Minneapolis
October 28, 2017: SuperMonster市City! returns to the Bakken Museum for Discovery Days, a family friendly event with interactive learning that will make you scream, including black lights, lasers, glow-in-the-dark fun and more! SMC will have a mini-exhibit of spooky fun toys from the past 60 years! 10:30 am – 3:30 pm. $12 and kids in costume get $2 off admission, and members get in FREE!
October 7, 2017: Join SuperMonster市City! at the Midwest Comic Book Association Fall ComiCon One day only! 10am-6pm Admission is $9/Kids under 9 FREE! $1 off admission with food donation.
October 5, 2017: Mini-Exhibit of robots from the Crypts of SuperMonster市City! at the Bakken Museum in celebration of World Space Week featuring craft cocktails and cool treats and is perfect for those who are curious about the cosmos. Open to ages 21+ and admission is $12
Terrifying Tuesday Monster Film Screenings, Oct. 2016
Minnesota made monster film series!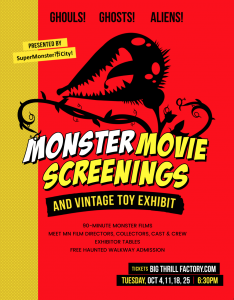 SuperMonster市City! presents: Friday Night Film Screenings, May 2016
Films shown in 3D, Super-8, 16 millimeter and Blu-Ray!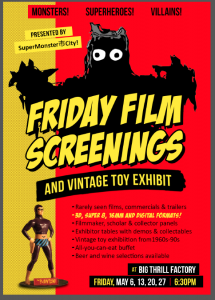 Goldstein Museum of Design, Fall 2015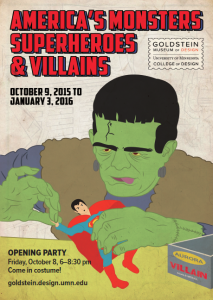 MN History Center Exhibition: Toys of the '50s, '60s and '70s (contributors), 2014 – present (touring)